PRAKTIKA method is based on the Classical Pilates Mat Series and Vinyasa Yoga.
A solid and well balanced physical training develops flexibility, mobility, strength and balance. While a focus on breathing lends itself to stabilizing the nervous system.

The variations shown for each movement enable everyone to either stay within their comfort zone, or push for more of a challenge. This means that both complete beginners and those with a firm experience will enjoy the benefits.
The classes are given in a small group 4-12 people, which allows a personal approach to every participant.

Regular practice will make you feel energized strong and flexible, allowing to flow freely through daily life. A delicious cocktail of Pilates and Yoga to boost you in every way.
If you are interested in trying classes with PRAKTIKA, please consult the schedule in the classes section of the website.
For private sessions,in-house classes at your company or team building sessions, get in touch to request a quote.
Let's get to know each other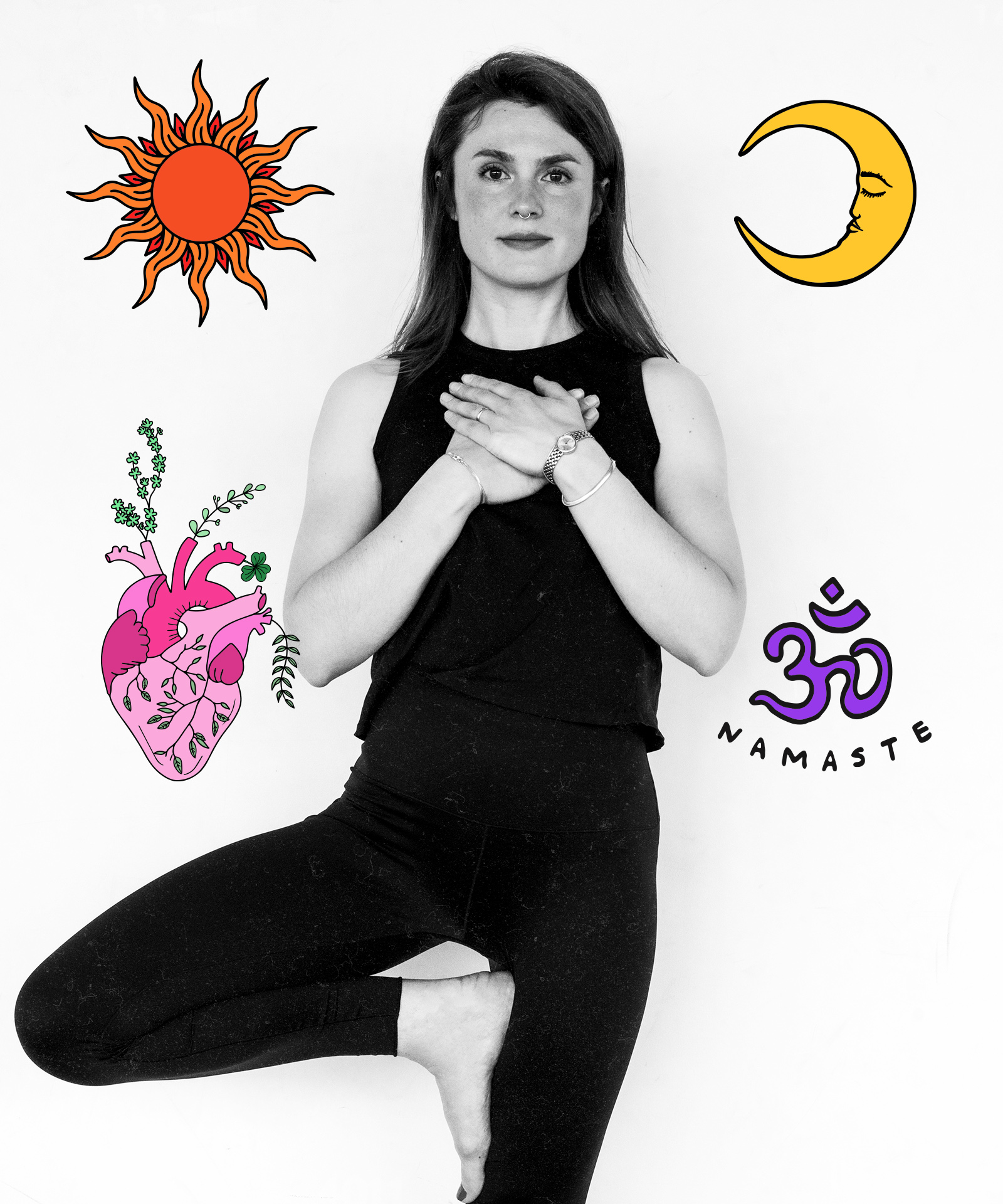 Founder of PRAKTIKA, Katya Voitko has had a keen interest in functional movement, exercise and nutrition since her teenage years.
Exploring yoga for over a decade (Hatha, Vinyasa, Ashtanga, and Shivananda) and being an avid practitioner of Pilates, in 2019 she took a first step on the teacher's path.
Now, as a Certified Health Coach, Yoga Alliance teacher and Pilates Mat instructor (Corpus Studios™), Katya is delighted to share her knowledge and experience by offering consultations and movement classes in Brussels and online.
As a believer in a holistic approach to health, she likes to challenge her clients in a playful way, – helping them to balance their nutrition and gain awareness through movement by strengthening the body and calming the mind.
Not taking yourself too seriously, having fun and being curious – these qualities are at the core of Katya's approach to life, an approach that she also takes with her to the health journey.
All classes are suitable for beginners and more advanced practitioners. Just choose what suits you best:
A session in the morning or in the evening? A focus on finding balance or on energising your body and mind?
group classes PILATES + YOGA FUSION
An energising fusion class to make you strong and flexible. Each session begins with breathing practice using technics from yoga and respiratory physiotherapy. Then follows a main physical work based on the Pilates Mat Series. And finally, as a dessert, you'll get a refreshing yoga flow to cool down. A medium-paced class that will suit any level through adaptations.
CLASSES FOR TEAMS
More and more companies value wellbeing and that's a good thing. So why not consider exercising with your colleagues on a regular basis or as a teambuilding activity? Feel free to get in touch to discuss the options. I'll be happy to listen to your needs and cater to them as best as I can.
PERSONAL TRAINING
Private sessions are a fantastic way to lay the basis for more efficient training during the group classes or deepening your personal practice.
You will get an understanding of basic Pilates principles, learn about critical connections, and install a correct alignment. Together we will design an exercise program that would best suite your goals and objectives.
Joining is as easy as sending me an e-mail!